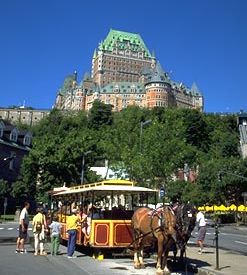 The Chateau Frontenac towers
over old Quebec City.
A Tale of Two Honeymoons
Roving romantics Barb & Ron Kroll
love Quebec City and BC's Purcell Mountains
Trying to choose an ideal honeymoon spot?
Most newlyweds want a romantic, postcard-pretty location, good food and lots of chances to embrace each other's company while sharing new discoveries. Should you pick country or city? Mountains or water? Activities or culture? The answers depend on your preferences, budget and time of year. These two diverse Canadian honeymoon destinations - one east, in Quebec City; one west, in British Columbia's Purcell Mountains - satisfy all the requisites, yet cater to different interests. Late spring, summer and fall are the best times to go.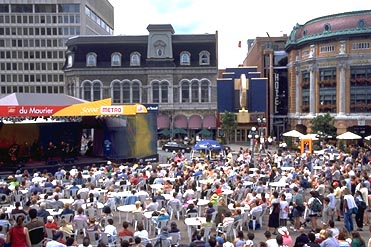 Crowds congregate in Quebec City
during the summer music festival.


Quebec City
If your hearts are set on honeymooning in France, but you can't afford the trip, then consider Quebec City. With its stone walls, 17th-century architecture, outdoor cafés, open-air art galleries and horse-drawn calèches clip-clopping on cobblestone streets, Quebec City offers the same old-world charm at a considerably lower price tag.
The Upper Town sits on a rocky cliff 92 metres above the St. Lawrence River. We reached the Lower Town, squeezed between the cliff and the river, by descending the Break-neck Stairs, to Place-Royale. Quaint homes that once belonged to wealthy merchants surround this former marketplace. Some have been converted to elegant restaurants. Others, especially along Petit-Champlain, the oldest street in Quebec, are now boutiques where we shopped for copper, leather, ceramic and handwoven handicrafts.

Costumed waitress welcomes patrons
at a French-Canadian bistro.
A funicular brought us up to Dufferin Terrace. From this 433-metre boardwalk we had a panoramic view of the river and its boat traffic, the town of Levis on the opposite shore, the Isle of Orleans to the east and the Laurentian foothills to the north. More memorable vistas awaited us at the Citadel - a huge star-shaped fortress - and along the ramparts that encircle the city for 4.6 kilometers.
Place d'Armes is Quebec's pulsating center of activity. For a handful of coins, folksingers, jugglers, and musicians entertained us for hours. On Rue du Tresor, one street over, we found artists selling inexpensive, though surprisingly good, paintings of the Old Town.
The Chateau Frontenac, the majestic castle-hotel that dominates the Place d'Armes, is a romantic honeymoon abode. We also found cozy accommodations in local guesthouses that were reminiscent of the quaint Left Bank hotels of Paris.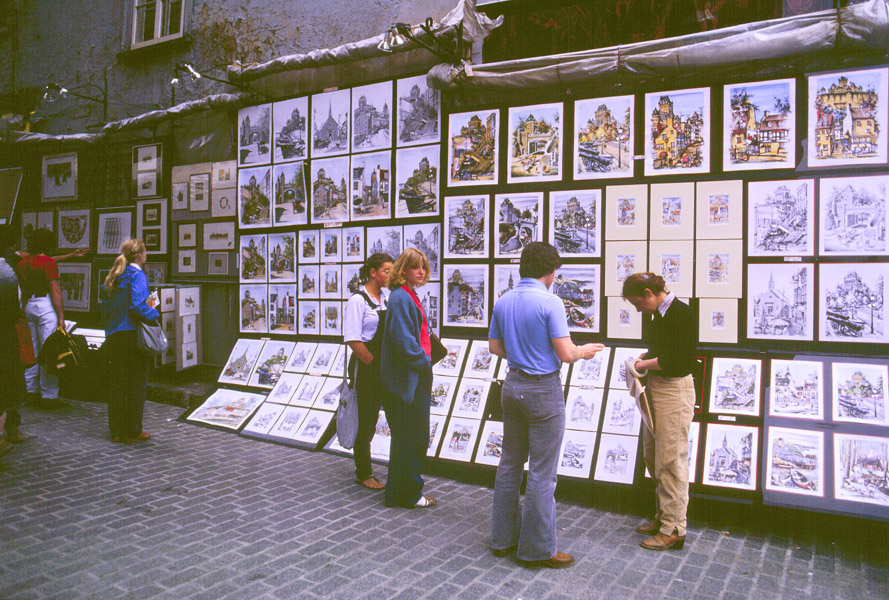 Scouting works by local artists
in Quebec City
Photo by Ron and Barb Kroll
Restaurants, bistros, bars and outdoor cafés reminded us of France. Our favorite place served Quebecois cuisine. At Aux Anciens Canadiens, housed in a 300-year-old cottage, the tourtière and maple syrup pie tasted as if our grandmothers lovingly prepared them over a wood fire.
Afterwards - as we meandered arm-in-arm along the cobblestone streets, savoring the old city's charm, the ringing church bells and the clip-clopping calèches - we felt as if we were on a romantic time-trip back to 17th-century Europe.
For details, contact the Quebec Tourist Office.
Phone: 1-800-363-7777.
Website: www.quebecregion.com
Win a trip to romantic Quebec City
Click on WIN

We huddled in a circle, around our
packs waiting for the helicopter.
Photo by Ron and Barb Kroll
British Columbia Mountains
After a hectic wedding, the serenity of British Columbia's Purcell Mountains is a welcome relief. Glaciers swirl like thick meringue over jagged peaks, while wildflowers carpet alpine meadows at their feet. The only way to reach this pristine setting is by helicopter. In winter, several Canadian Mountain Holidays (CMH) lodges provide accommodations for heli-skiers. In summer, five of these mountain lodges become bases for people who want to explore landscapes reminiscent of the musical Sound of Music.
We stayed at Bobbie Burns Lodge, just 1½ hours from Lake Louise, Alberta. Our package included meals, helicopter transfers, guides, hiking boots, insulated hooded jackets, wind pants, rain ponchos, day packs, water bottles, snacks and even sunscreen. We only needed to pack shorts and T-shirts, hats, toiletries and cameras.
We felt no pressure to hike long distances. Guides divided us into slow, intermediate and fast groups, based on our interests and abilities. Each morning, after a bountiful buffet breakfast, a Bell 212 helicopter picked us up in front of the lodge. We huddled in a circle, around our packs, as the thwop, thwop, thwop of the rotor blades drew near until our guide tapped us on our shoulders, indicating it was safe to enter.

We relaxed by turquoise lakes
Photo by Ron and Barb Kroll

Inside, two long seats held 10 passengers, while a wonderfully cozy side seat, which we always picked, was perfect for two. Holding hands, we watched IMAX-movie views scroll by our large window, as the helicopter banked over alpine firs, crested razor-sharp ridges and whirled above emerald lakes and rumpled white snowfields.
Each day's hiking brought new thrills: Hopscotching over stepping stones in trickling streams of melting glaciers. Admiring red-stemmed saxifrage and yellow orchid-like monkey flowers. Photographing a mother ptarmigan, with her cheeping baby chicks. Discovering an abandoned mine, complete with pick axes and glittering chunks of fool's gold.
For lunch, we relaxed by turquoise lakes, picnicking on sandwiches, fruit, Swiss chocolate and granola bars. Later, the helicopter transferred us to a different peak for new adventures and more breathtaking scenery. Once, we landed by a glacier covered with watermelon snow (tinted pink by algae). We climbed up to an ice-blue cave, then descended along rushing waterfalls to a glacial pond, filled with tiny icebergs.
Our favorite peak was Vertigo, where we sat on sun-warmed pencil slate on a narrow ridge. Sipping Champagne, poured by our guide, we gazed in awe at the 360-degree panorama of frosted peaks piercing the periwinkle skies around us. Cloud nine. Rocky Mountain high. Whatever it was, we were on top of the world.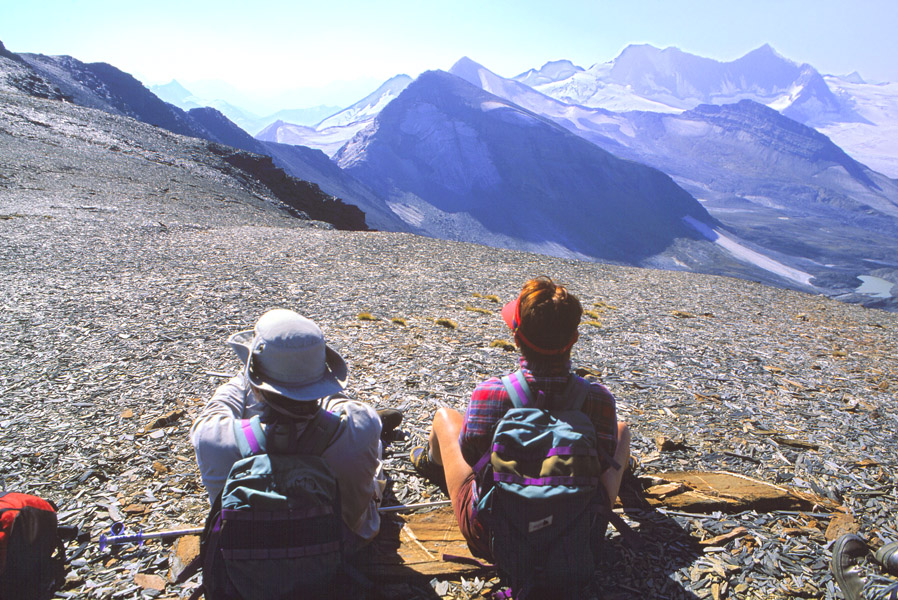 Each day's hiking brought new thrills
Photo by Ron and Barb Kroll
The helicopter brought us back to the lodge each evening, where hors d'oeuvres and dinner with wine awaited. Afterwards, we enjoyed massages, played board games by the fireplace and luxuriated in the outdoor hot tub under a star-filled sky.
A glance through the guest book confirmed that others shared our ecstatic feelings about heli-hiking. "Pure magic," wrote one couple. "Scenery beyond description. Guides above expectation. Fabulous food. Adventure of a lifetime," penned another. "It made our honeymoon very special," added two newlyweds. "We'll carry these memories for a long time." So will we. Details: Phone CMH: 1-800-661-0252 Website: Canadian Mountain Holidays (CMH) www.cmhhike.com
Barb and Ron Kroll have traveled more than 3 million kilometers around the world.
Among their award-winning photographic and writing credits is their recent contribution to National Geographic's new Great Family Adventures.