Washington's Secret Gardens
Washington, D.C. is filled with memorials and neoclassical public buildings. But there are also tranquil, romantic places where you can get away from the monumental proportions of the U.S. capital, including Dumbarton Oaks Gardens and the Hirshorn Sculpture Garden.
By Toby Saltzman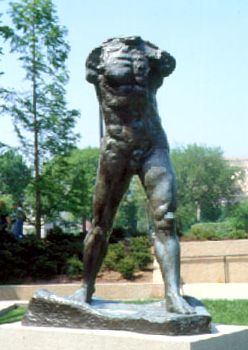 An impressive work by Rodan
in the Hirshorn Sculpture Garden on The Mal.l
When the monumental proportions of Washington begin to boggle your mind and entrance your soul, and you crave a tranquil interlude before approaching yet one more overwhelming edifice or emotional memorial, there are two gentle, romantic places where, amid the solace of their beauty, you can linger awhile and refresh your thoughts.In this regal city, where cleverly orchestrated vistas and gleaming, neoclassical structures induce public awe, each, by passionate design, articulates exquisite contradictions in very private space and time.
You find the tiny Hirshorn Sculpture Garden tucked, almost secretively, in a sunken and walled enclave in the midst of The Mall's Smithsonian marvels. The rambling Dumbarton Oaks Gardens lie secluded behind banks of formidable oak trees in the heart of Georgetown, the comparatively quaint, residential area where Pennsylvania Avenue, the historic "avenue of the Presidents", culminates.
In reality a satellite gallery of the Hirshorn Museum, which boasts one of the U.S's finest collections of modern art, the Hirshorn Sculpture Garden is an enchanting, timeless retreat containing works by the likes of Auguste Rodin and David Smith, along with a mobile by Alexander Calder and rare reliefs by Henri Matisse and Thomas Eakins.
Favored by those familiar with The Mall, it is a heavenly place for a peaceful picnic. Arguably among the most significant landscaped gardens in North America, Dumbarton Oaks blossomed from the romance of two teenagers with impeccable taste, cultural breeding and untold wealth.
The Hirshorn Sculpture Garden
Thrown together as step-brother and step-sister (he was eighteen and destined for diplomatic service, she, fourteen, the heiress of Fletcher's Castoria fortune) when their widowed parents wed in 1894, Robert Bliss and Mildred Barnes fell in love, married and embraced their passions for music, art and gardens in Dumbarton Oaks, a palatial, early 1800s estate that they renovated and, in 1940, endowed to Harvard University.
Dumbarton Oaks now serves as a museum and research institute for Pre-Columbian and Byzantine art and the history of landscape architecture.
Intent on having a "country house in the city," even though Mr. Bliss's career kept them from settling here permanently until 1933 (he was Ambassador to Argentina), Mrs. Bliss collaborated with Beatrix Jones Farrand, the renowned landscape architect, to transform 10 of the wooded valley's 16 acres into "a series of broad terraces leading from the strictly formal architectural character of the house through various transitions to the delightful informality of the lower garden with its loose plantings of flowering trees, shrubs and naturalized bulbs." The result is splendid.
Dumbarton Oaks Garden
Farrand's meticulously conceived composition of stepped plateaus, arbors, fountains, reflecting pools, pebble garden and winding pathways, and her perfectly restrained choice of plantings, which bloom in concert creating a symphony of colors, created a garden of timeless beauty in any season.
The garden demands strolling, then dallying on a bench. In spring it is a riot of cherry blossoms, sunny forsythias and vines of mauve or lemon wisteria. In summer vibrant fuchsias cascade and roses beckon with irresistible fragrance. In fall, myriad varieties of chrysanthemums bloom.
Dumbarton Oaks mansion bears a stunning, ageless lustre. Originally built for Senator William Dorsey (financial problems forced him to sell it), the Federal-style structure had been Victorianized by successive owners.
The Blisses stripped away most of the 19th century gewgaws, renovated and expanded the interior to accommodate the music room, the garden library, the rare book room, and two museum pavilions, one each for their Byzantine and Pre-Columbian art collections.
Famed for hosting the two Dumbarton Oaks Conferences in 1944 - the first assembly of ministers from the U.S., Great Britain, China and the Soviet Union - which laid the foundation for the charter of the United Nations, the elegant Music Room, whose grand piano is autographed by Ignace Paderewski, also inspired Igor Stravinsky's Concerto in E-flat Dumbarton Oaks in honor of the Bliss's 30th anniversary. Their photograph graces a table in front of a 16th century French chimney piece. Bedecked with a wood ceiling painted like that of the Salle de Gardes in the 16th century Chateau de Cheverny of France's Loire Valley, the music room is adorned with soaring arched windows, Flemish and German tapestries, antique European furniture and artworks that include El Greco's The Visitation.
The Byzantine Empire collection includes exquisite pieces from the fourth to the 15th centuries: intricately designed jewelry, gold artifacts, a 21,000-piece Byzantine coin collection (said to be the largest, most complete in the world) and precious Greco-Roman bas-reliefs and bronzes.
The reflecting pool of Dumbarton Oaks Garden.
The Pre-Columbian gallery is itself a work of art. Designed with eight, curved-glass alcoves encircling a fountain, it invites natural light and garden views. Succinctly detailed, the collection is rich with golden adornments, Mayan ceramics and glyphs, Aztec pottery and masks and Peruvian tapestries. It does make you wonder if Bliss's "sources" were the original raiders of the lost civilizations of Tikal and Chichen Itza.
With time to spare, architecture and history buffs will appreciate a walk through Dumbarton Oak's neighboring streets. Distinctly Federal in style, the homes are conspicuous only by their gardens and hushed, albeit celebrated, status.
In this conservative milieu, the most outlandish of them sport red or green shutters instead of black. Number 3017 N Street is where Jackie Kennedy lived as a reporter for the Washington Times. Number 3307 N Street is where she and John Kennedy lived when he was Senator.
Nearby, the redeveloped Washington Harbor lies along the Potomac River with a popular boardwalk, restaurants and cafes. And the old C&O Canal (a narrow, long waterway once plied by mule-drawn barges) provides shade for walkers, cyclists, canoeists and fishermen escaping the city's bustle.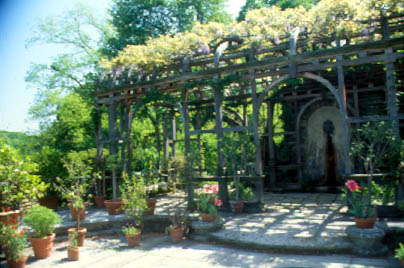 Shady arbour
After you've seen the essential sights of Washington D.C., the poignant monuments to humanity - particularly the Vietnam Memorial and the Holocaust Museum - you will certainly appreciate the peaceful respite of Dumbarton Oaks and the Hirshorn Sculpture Garden.
Details:
The Hirshorn Sculpture Garden, open around the clock, is located in the recessed space between the National Mall Grounds and the Hirshorn Museum, located at 7th Street and Independence Ave. SW. Dunbarton Oaks Museum, Garden, Library open at various times.
Museum details: Phone: 202-339-6410
Washington guidebook: Phone: 202-339-6410
website: www.washington.org