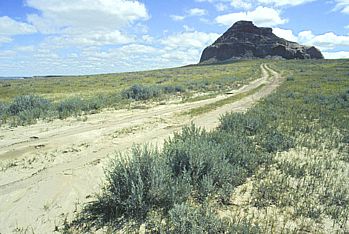 Road to Castle Butte. Big Muddy Badlands, Saskatchewan.
Saskatchewan's Big Muddy Badlands
Barb and Ron Kroll follow the Outlaw Trail left by Chief Sitting Bull, Sam Kelly, Butch Cassidy and the Sundance Kid
Text and photos by Barb and Ron Kroll
The sign on the gate reads: "Giles Ranch: Trespassers will be given a fair trial then hung." We swung the gate open, drove through, closed the gate and continued driving. Our guide, Betty, who lives on another ranch here in the Big Muddy region of southern Saskatchewan, ignored the sign. She was taking us to see a ceremonial circle where the early Indians had gathered.
Today, a kidney-shaped circle of stones, 25 meters long and 18 meters wide, is all that remains of the large boulders that once held down the animal hides that covered the ceremonial lodge. A short drive away, we found a nine-meter-long effigy of a turtle. Since the turtle represented long life, wisdom and fertility to the aboriginal people, archaeologists figure that the stones likely surround the grave of a very important Indian chief. Even more symbolic is the nearby stone outline of a buffalo, the only one known in Canada. The bison was the staff of life to the Plains Indians, providing food, shelter and clothing, as well as tools.
Climbing Castle Butte. Big Muddy Badlands, Saskatchewan.
For the native people who once lived here, this wild and broken land of deeply cut ravines, weathered buttes and eroded sandstone was a holy place of retreat to pray and fast. It was also a place of refuge for Sioux Chief Sitting Bull and his warriors, following the Battle of the Little Big Horn in Montana. After five years of hunting buffalo in Canada, food had become so scarce that friction developed between the Sioux and the Canadian tribes. A year later, Sitting Bull was persuaded to return to his homeland.
Shortly afterwards, the outlaw troubles began. The 1880s brought drought to much of the United States. Beef prices dropped, fortunes were lost overnight, and ranchers, unable to afford hired help, released most of their cowhands. Some of the jobless, homeless cowpunchers drifted north and formed gangs that rustled cattle, robbed trains and terrorized ranchers.
One gang, led by Butch Cassidy, laid out an escape route that stretched from Canada to Mexico, with way stations every 24 kilometers that provided fresh horses and supplies. The Big Muddy was Station No. 1.
Prickly pear cactus in flower.
Big Muddy Badlands, Saskatchewan.
Although it's known that members of the gang took refuge here when American authorities were hot on their heels, and that Cassidy's sidekick, the Sundance Kid was a frequent visitor, it's uncertain if Cassidy personally used the hideout.
Also here, was the Nelson-Jones Gang, with Nelson, alias Sam Kelly, as the ringleader. In 1903, he joined forces with Dutch Henry, a notorious horse thief who was assisted by outlaws named Bloody Knife and Pigeon Toe Kid. Together, the gangs were known as the Wild Bunch. Stealing as many as 200 horses on one drive, they would alter their brands, herd them into Canada, sell them, then re-steal them again for resale back in Montana and the Dakotas. The Big Muddy was an ideal haven for outlaws. The sparsely populated badlands were riddled with caves and coulees (gulches). Sam Kelly enlarged a weathered wolf den for his living quarters and hid his horses in a nearby cave.
Today, with the exception of a sign reading: "Sam Kelly's Outlaw Caves," the caves remain much as he left them. We squatted low to avoid bumping our heads as we entered Kelly's cave. It was dark and cool inside. A battered trunk sat on the ground. The cave served as a good hideout because it was near water, and Peak Butte was an ideal vantage point, just a short distance from the American border. We viewed the surrounding landscape from another lookout, Castle Butte. The 60-metre-high relic from the Ice Age served as a landmark in turns for Indians, outlaws and settlers. From a distance, it looks like a pyramid with a flattened top. But up close, its eroded clay slopes teem with flora and fauna.
Lawlessness in the area was finally curtailed in 1902 when the North West Mounted Police, forerunners of today's Royal Canadian Mounted Police, arrived on the scene to establish a two-man post in the Big Muddy. By 1904, it grew to a five-man detachment headed by Corporal Bird, an energetic Mountie who gained a reputation as "the man who never sleeps."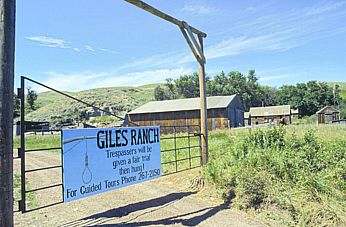 Giles Ranch. Big Muddy Badlands, Saskatchewan.
When the outlaw era ended, Sam Kelly settled down as a rancher. (Murder was difficult to prove in those days, because most shootings were considered to be in self-defense.) Kelly kept pretty much to himself, although neighbors told stories about his sharp-shooting ability to dehorn a steer with his 30-30 gun at 100 meters. He died in North Battleford in 1954.
The Big Muddy's infamous past is gone, but its importance as a ranching community remains. Since some of the outlaw sites and Indian effigies are on private land, accessible only by unmarked gravel roads, it's best to join a guided tour. Tours of the Big Muddy begin in the village of Coronach. With a tiny population of 1,000, it's still the biggest town you'll see on tour. If you stop for a bite in one of its restaurants, you're sure to mingle with the locals, and hear a tale or two of Big Muddy's colorful characters.
Details:
Big Muddy / Outlaw Cave Tours
Phone: 306-267-3312 or 306-267-2150.
Contact Tourism Saskatchewan: Phone: 1-877-237-2273
e-mail at travel.info@sasktourism.com
Website: www.sasktourism.com.
Barb and Ron Kroll have traveled more than 3 million kilometers around the world. Among their award-winning photographic and writing credits is their recent contribution to National Geographic's new Guide to Family Adventure Vacations.