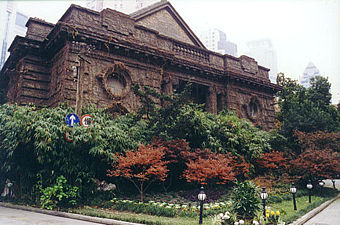 Ohel Rachel Synagogue
By Rabbi Greenberg
Shanghai Seder
While on a business trip,
Lauren Kaufman experiences
a night different from all others
We arrived at 1277 Beijing Xi Lu, the office of Jewish Community of Shanghai, on April 18, 2000. Rebbetzin Dina Greenberg had e-mailed me to pick up our tickets for the Passover Seder here. The small room on the twentieth floor of a bleak office building was part makeshift workspace, part storage area filled with crooked wooden shelves overflowing with Hebrew books. The young Chinese girl manning the office spoke broken English. After collecting $40 per person, she gave me invitations to the next evening's festivities and called Rabbi Shalom Greenberg to announce my arrival. His hearty Israeli voice resounded over the phone. "Welcome to Shanghai! I hope you found the office OK. We're looking forward to having you and your friends join us tomorrow." He checked my directions and invited me to attend Passover Eve services at the synagogue down the road.
Since my last night of a two-week business trip overlapped with the first night of Passover, I wanted to find a place where I could celebrate and meet some Chinese Jews. So I was thrilled when a friend sent me Rabbi and Dina's email address. One communication led to another, and soon my colleagues and I were joining the Jewish Community of Shanghai at their annual family Seder. Our excitement grew.
We arrived at dusk to find Chinese soldiers guarding the entrance of the 80-year-old Ohel Rachel Synagogue, which was set back from Shan Xi Bei Road behind a gate. Later, I learned that the soldiers' prime duty is to forbid entrance to Chinese people, particularly because proselytizing in China is illegal and Judaism is not a recognized religion. Only foreign passport holders and their families may enter the large, stone-faced temple. I had anticipated meeting Chinese Jews and children of inter-cultural mixes. To my dismay, there were some fifty, casually dressed Western expatriates in attendance.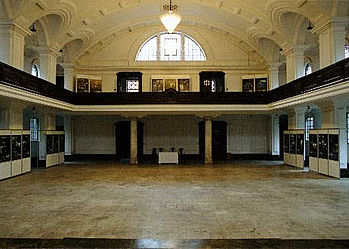 Synagogue interior
By Lauren Kaufman
The Republic of China's Communist government, established in 1949, only recognizes five religions: Buddhism, Taoism, Confucianism, Christianity and Islam. Today, the 200 member strong Jewish community, comprised of international professionals, businessmen and entrepreneurs from 12 countries, is under watch by the government so as not to "disturb social stability." Rabbi Greenberg, who came to Shanghai in 1998 with Dina as emissaries of Chabad-Lubavitch World Headquarters in Brooklyn, admitted that without Chinese authorities' recognition of the community, "It is very difficult to operate here...[the community] could not rent office space, open a gift shop or a kosher food store."
This seems ironic since in the late 19th and early 20th centuries, the Sephardic Jews who emigrated from Baghdad were the movers, shakers and builders of Shanghai. Jews comprised 40% of the stock exchange membership. The Sassoon, Hardoon and Kadoorie families were among the richest in the city. During the 1930s, Sir Victor Sassoon erected a great number of Shanghai's landmark buildings in the old Bund sector, most notably the Sassoon House which is today the famed Peace Hotel. Back then, the Jewish community topped 1,700 members and ran three synagogues, a school, a hospital, meat shops and more. During World War II, Shanghai opened its arms to some 20,000 European Jewish refugees. This city was the only place in the world that did not require an entry visa.
The ivy-covered Ohel Rachel Synagogue, built by Sir Jacob Elias Sassoon in 1920 in memory of his wife Rachel, was closed by the Chinese government in 1952 and kept empty under strict communist sanctions prohibiting religious observance. This erev Pesach (Passover Eve) service on April 19, 2000, was only the third time the synagogue's doors were reopened to Jews in 47 years (Rosh Hashanah and Hanukkah 1999 were the first two times). This was thanks to pounding efforts from consulates and advocates around the world, especially Rabbi Arthur Schneier from Park East Synagogue in New York.
Ohel Rachel is an imposing building that holds up to 700 people in the sanctuary. The walk-in ark, designed to hold 30 Torah scrolls, was bare. The balconies overlooked the pew-less sanctuary. Now the empty space held rows of folding chairs, separated down the middle with a make-shift mechitza - a traditional divider separating men and women from praying together at the Orthodox service.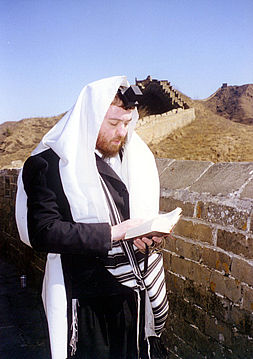 Rabbi Shalom Greenberg davening
at the Great Wall of China
While reading the Hebrew evening prayers from the photocopied booklet, I was moved by the realization that I was involved in a special historic service, praying with the Jewish Community of Shanghai. Even though I was more than 7,360 miles from New York and relatives during this family-centered Passover celebration, I felt strangely comfortable.
After sundown, the congregants walked about a mile to the Portman Ritz-Carlton Hotel for the first Seder. A small conference room on the third floor was filled round tables of young, expatriate families. There were no elderly or Chinese in attendance; the only Asians in the room were waiters. In the center of each white linen, a saran-wrapped Lazy Susan held plates of matzo, Kedem Concord Grape wine bottles and all the elements of a traditional Seder plate: bitter herbs, parsley, charoset (a mortar-like paste of chopped walnuts, apples, cinnamon and red wine), a roasted shank bone and a roasted egg. Rabbi Greenberg and Dina lead the Seder service, calling upon community members to read Hagaddah (story of Passover) portions aloud to the 100 gathered. I was honored to be chosen for a reading. I felt at home as youngsters read the Four Questions and everyone sang The Ballad of the Four Sons to the tune of Clementine, and Take Us Out of Egypt to the beat of Take Me Out to the Ballgame.
The first of the Four Questions, "Why is this night different from all other nights?" provoked my thoughts. For one, I was partaking in a Seder in a Communist land where there are no kosher stores or restaurants. All of the dinner's Glatt kosher ingredients, down to the chicken, had been imported. The Rabbi enjoyed joking, "It is not difficult being observant in Shanghai; it is merely expensive!" Secondly, the community had arranged for the Ritz-Carlton to kosher the kitchen before cooking for Passover. The hotel staff had blowtorched the ovens to ensure all chometz, or leavened bread, was eliminated. They had sterilized the kitchen appliances with steam guns and pressure hoses, and boiled all kitchen trays and utensils. The hotel bought new silverware just for the holiday. Thirdly, before preparing for the Seder, the hotel's Chinese chefs had been trained in the laws of kashrut (kosher cooking), all of which was completed under strict rabbinical supervision.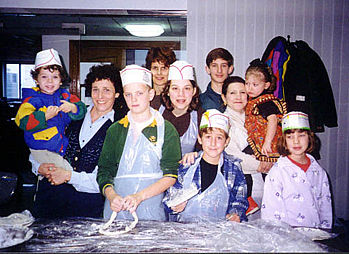 Shanghai Jewish children at a model matza bakery
By Rabbi Greenberg
After two weeks of traveling through China, this was our first meal where chopsticks were nowhere to be found. My colleagues and I were delighted to use a fork and knife again. The festive Seder meal began with a delicious fish dish followed by matzo ball soup. The entrée was traditional roast chicken, roasted potatoes and vegetables. Dessert, my favorite course, was an array of fresh fruit.
After the plates were cleared, Rabbi Greenberg led the guests through the rest of the Seder service as antsy children fidgeted and climbed under tables. The little ones were captivated again when it was time to open the door for Prophet Elijah. Four cups of wine and many hours later, the Seder drew to an end.
In lieu of the traditional closing proclamation, "Next year in Jerusalem!" I fondly shared the toast: "Next year in Shanghai!" and wished for the good fortune to share a special time like this again soon.
If You Go:
The Jewish Community of Shanghai always welcomes visitors all year round. Guests may join Friday and Saturday services and/or weekly Shabbat meals at the Portman-Ritz Carlton. All meals are Glatt Kosher under the supervision of Rabbi Greenberg. Reservations are required one week in advance. Contact the Jewish Community website: www.chinajewish.org
Visitors may join tours of Shanghai's Jewish sectors. Georgia Noy, and Israeli tour guide leads a half-day tour of the Hongkou Ghetto. Contact: amirnoy@online.sh.cn.
Professor Pan Guang at the Center of Jewish Studies arranges one-day tours of Jewish Sites that include meetings with the professors or postgraduates.
Contact: oys@www.ssi.stc.sh.cn or gpan@srcap.stc.sh.cn
Lauren Kaufman is a Senior Account Executive
with the public relations firm Spring, O'Brien & Co.