Tulipmania: May 3-20
On its 50th Anniversary, the Canadian
Tulip Festival celebrates the life and times
of photographer Malak Karsh.
By Toby Saltzman

If Ottawa, Canada conjures up images of red-jacketed Mounties on horseback, the changing of the guard at Parliament Hill, Maple Leaf flags waving high above majestic buildings, international Royalty and Heads of State talking politics while strolling alongside the Rideau Canal - that's fine.
However, it's good to know that for all its political pomp and ceremonial panache as Canada's capital city - Ottawa is a culturally rich and safe city loaded with attractions for all ages.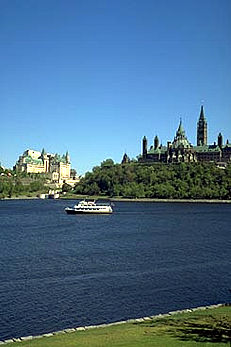 An Ottawa River cruise gives views
of the Parliament Buildings and
the Chateau Laurier Hotel.
I happily pop into Ottawa any season at all to catch a concert at the National Arts Center, a sporting event at the Palladium (home of the Ottawa Senators hockey team) or a world-class art exhibit at the National Gallery. But I love Ottawa most in May, when the parks and boulevards become seas of tulips, with wave upon wave of brilliantly colored blooms.
Ottawa's tulip tradition began in 1946 when Princess Juliana of the Netherlands gave the city 100,000 bulbs in appreciation for sheltering her Royal Family during World War II and the role Canadian troops played in liberating her country.
Over the years, the Netherlands' annual gift was supplemented by bulbs from other countries, and Ottawa's Tulip Festival flourished to become the largest, most lavish one in the world.
This year, on its 50th anniversary, the Canadian Tulip Festival will celebrate the life and times of renowned photographer, Malak Karsh, by dedicating Tulipmania! to his memory with a splash of brilliant exhibitions and events from May 3 to 20. Millions of tulips will span vast gardens running along the National Capital Region Tulip Route, along the Rideau Canal, through Ottawa and Gatineau.
In many ways, Malak Karsh was instrumental in creating Canada's Tulip Festival. Whether or not average Canadians ever knew his name as the understated gentleman who photographed the icons of Canadian culture, including Ottawa in all its tulip glory, they knew his work. Malak's 1963 photo of logs floating on the Ottawa river below Parliament Hill, perhaps his most famous work, appeared on the last Canadian one-dollar bill, on the reverse side of the portrait of Queen Elizabeth, taken by his brother, the famed Yousuf Karsh.
I met Malak Karsh one quiet morning when I was photographing the very pictures you see on this page.
"Tulips always remind me of when I first came to Canada from Armenia and my brother took me for a drive around Ottawa to show me my new home, " he said, proceeding to entertain me with interesting trivia.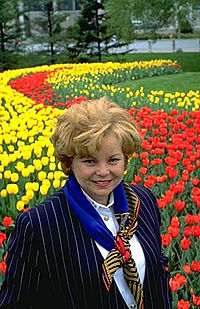 Toby Saltzman by Malak Karsh
"Did you know that when Ottawa first received the gift of Dutch bulbs, that Mackenzie King complained the tulips would spoil the gothic integrity of the Parliament Buildings? Never mind: the next spring King was pleased to see the little blossoms burst open from those long green stems. Did you ever see my 1953 photograph of the young girl watering tulips with a watering can in this very spot? That was little Margaret Sinclair. She became Mrs. Pierre Elliott Trudeau. You know: the Prime Minister's wife."
Malak went on to say how he was inspired to nudge the Ottawa Board of Trade to create a tulip festival in 1950, while he was too ill with tuberculosis to work. The festival was officially launched in 1953. Over time, the Netherlands' annual gift was supplemented by bulbs from other countries and the Tulip Festival, held every May, flourished to become the largest, most lavish one in the world. Since then, it has blossomed to attract thousands of tourists to the region each year. In 1984, Ottawa honoured Malak by naming a mauvey-red blossom after him.
By now, my time was running out. I had other places to visit. Yet Malak remained steadfast with patience. "Let me try your camera," he said. After fiddling with the lens, he photographed me, framed by the National Gallery. " In turn, I snapped his picture, shook his hand, and stepped back slowly, beaming from my lovely encounter with one of Canada's foremost artists, knowing I carried Malak's gift of photography within the body of my Minolta.
Over the years, Malak's love for photography rarely waned. Apparently, just two days before his death in 2001, he was photographing Parliament Hill in brilliant autumn hues, still building his portfolio and legacy of Canadian images. An exhibition of his work, coincidentally planned prior to his death, will be held at the Canadian Museum of Contemporary Photography.
For three weeks, tourists will have opportunities to view imaginative installations of living tulips designed and created by artists from across Canada. The Tulipmania Exhibition will run from May 10 to 20 at Major's Hill Park, the Festival's main activity and celebration site. Tulip Explosion, a new flower show site at Maison du Citoyen in Gatineau, will feature floral designs inspired by famous paintings from May 3 to 6. During the same period, Tulip Explosion will include displays from the International Floral Gown Competition. Budding florists will be able to enhance their metier by attending the International Floral Workshops. Serious gardeners will have opportunities to interact with experts at the Tulip Encounter, as well as attend the first World Tulip Summit, where international tulip experts from the Netherlands, France, Japan, Turkey, Australia and other countries will participate in a three-day tulip symposium. Home gardeners will have chances to meet and speak with tulip experts at the Tulip Encounter in Major's Hill Park.
Besides living blossoms, the Capital Region will abound with artistic renditions of tulips and activities for all ages. Check the official tulip website www.tulipfestival.ca for exact details for outdoor concerts, events and gala balls. Plan to visit the Artisans in the Park for unique, tulip-inspired handicrafts, and the 50th Anniversary Eatons Ottawa Community Tulip Garden, consisting of 260 five-foot fiberglass Tulipmania Tulips painted by local artists and groups. If you have kids in tow, don't miss the Shoppers Drug Mart Kid Zone featuring fun characters and tulip activities. (Children under 12 are free.) Follow the Tulip Route to Commissioners Park alongside Dows Lake, where you can indulge in authentic sweet or savoury "Beaver Tails" at the Tulip Café. Try to stretch your visit to join the throngs of festival goers at the Casino de Hull Parade of Lights on the evening of May 18 and Clarica Flotilla Parade on the Rideau Canal on May 19. Take time to venture away from the mainstream displays. Hike or bike ride into the Gatineau Hills to visit the beautiful gardens and antique relics of the Mackenzie King Estate. And don't forget to dip into the Byward Market for souvenir bulbs to plant back home.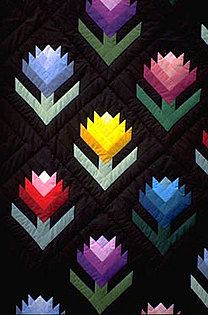 Tulip quilts and other crafts are for
sale at the local markets during the Canadian Tulip Festival
As well, there will be flotillas of flower-bedecked boats on the Rideau Canal, British buskers, a citywide carnival, a parade of illuminated boats and a sound and light show at Parliament Hill. Pick up a local map listing "tulip events" throughout the city featuring daily entertainment at the International Tulip Friendship Village; arts and crafts fairs brimming with souvenirs; activities galore at the Shoppers' Drug Mart Kid zone; and programs on creating floral bouquets at the National Gallery "Artissmo" kiosk.
Capital City Sites
Tulips aside, by world standards, Ottawa is beautiful, remarkably safe and historic. A little history puts it into American perspective. Ottawa was originally called Bytown in honor of Colonel By. By made quite a significant contribution to the region. After the war of 1812 in Upper Canada (as this region was called), the Rideau Canal was built as an escape route to Kingston in case of an ensuing American invasion. Colonel By supervised the construction of the 200-kilometre canal, with its series of locks and dams, which raised the waters so boats could "climb" 84 meters over the Canadian Shield then drop 49 meters down to Lake Ontario. By 1832, Bytown - which began as a settlement for the canal workers in 1826 - was burgeoning on the south shore. When Bytown finally gained city status in 1855 it adopted the Algonquin name Ottawa - meaning "traders." Queen Victoria declared Ottawa the capital of the Province of Canada in 1857.
Canadian flag on high tower on
Ottawa's Parliament Building
Today Canada's Capital Region encompasses Ottawa and Hull, the Quebec city situated immediately across the river. Plan to spend a few days, there's so much to see and do. To get a sense of the region's historic and national splendor, start at Parliament Hill, which comprises a cluster of splendid Gothic building on a cliff overlooking the Ottawa River. For an inside look at Canada's justice system in action, the Supreme Court of Canada, located at Wellington Street and Kent, offers free tours. War buffs shouldn't miss The National War Memorial on Confederation Square, unveiled in 1939 to commemorate Canada's service in World War I. Another Ottawa must-see: Byward Market and the historic Sussex courtyard area bustle with bistros, clubs, artisans' stalls and a folksy farmers market. The Rideau Canal Works are fascinating to watch, particularly at the locks between Parliament Hill and the Fairmont Chateau Laurier Hotel. The Fairmont Chateau Laurier epitomizes the regal grandeur of Ottawa. Sit in the lobby for a while and watch the political world go by, or duck into Zoe's lounge for the best cocktails in the capital city. Better yet, stay here. Various packages include picnic lunches and rentals for bicycles and in-line skates.
Nearby, Laurier House, former home of Canadian Prime Ministers Sir Wilfred Laurier and William Lyon Mackenzie King, contains some interesting historic exhibits. The current Prime Minister's Residence is at 24 Sussex Drive, an 1868 stone mansion overlooking the Ottawa River, is closed to the public but worth walking by. If you like, scoot around the corner for a free tour of Rideau Hall, the official home of Canada's Governor General.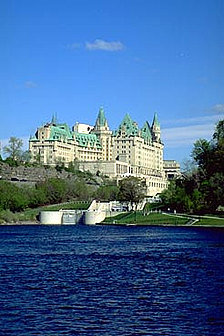 Historic Chateau Laurier Hotel
Ottawa is eminently walkable, but there are plenty of neat ways to save tired little (and big) feet from blisters, thanks to rental bikes and rollerblades, convenient sightseeing trolleys and the river boats that cruise the Rideau Canal and Ottawa River, stopping at the best sites along the way.
The city's museums and galleries are family-friendly. Take a walk through history at the Canadian Museum of Civilization, which houses numerous galleries full of works depicting Canada's cultural and artistic heritage. It's also home to the Children's Museum, which boasts hands-on displays.
The Canadian Museum of Contemporary Photography, an elegant museum tucked below ground level next to the Chateau Laurier Hotel, showcases the work of some of the country's most dynamic photographers.
The Canadian War Museum contains the country's largest war-related collection and traces Canada's entire military history. The life-size replica of a WWI trench is one of the highlights.
The National Gallery of Canada boasts the country's finest collection of both Canadian and international works of art. Coming up is an outstanding Gustav Klimt exhibit (June 15-September 16) culled from public and private museums in Europe, Japan and United States.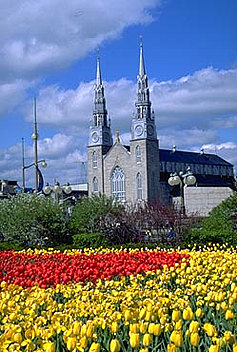 The Cathedral
The Museum of Science and Technology, Canada's largest museum of science and technology, includes interactive exhibits, huge locomotives and virtual reality astronomy programs.
The Royal Canadian Mint produces and circulates special-edition and bullion coins of gold, silver and platinum. Visitors can observe the process. Sorry, no samples.
The National Aviation Museum houses Canada's largest and most important aeronautic collection and ranks as one of the world's best. More than 100 aircraft and numerous interactive exhibits narrate the history of flight.
The brand new Canada and the World Pavilion showcases Canadians who are making their mark around the world today.
For a break from the museums, head out-doors. Cycle along 150-kilometers of scenic pathways, hike in Brittany or Gatineau parks, or kayak and white-water raft along the Ottawa River - one of North America's most powerful - with Class 5 rapids. Stop along the way for a taste of "beaver tails." Locals flavor these pancake-like delicacies with everything from savory spices to sweet berries. And when you pass the Rideau Canal locks, stop to wonder: If not for Colonel By, would Ottawa belong to the USA?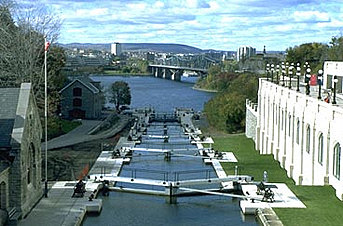 The Rideau Canal Works are fascinating to watch,
particularly at the locks between Parliament Hill
and the Chateau Laurier Hotel.
Fun for kids of all ages
The Ottawa Riverboat Company operates tours from May through October. OWL Rafting offers one- and two-day whitewater rafting trips and half-day family float trips along the Ottawa River.
Wilderness Tours also run river-rafting and kayaking excursions.
The Hull-Chelsea-Wakefield Steam Train (dubbed the HCW) is travel like it was in the good old days; A five-hour, 32-kilometer rail excursion along the Gatineau River takes passengers from Hull to the quaint village of Wakefield and back.
Dows Lake is a small man-made lake with a pavilion where you can rent sailboats, canoes, pedal boats and bikes, and indulge in decadently topped "beavertails" on the terrace.
The Central Experimental Farm (930 Carling Avenue; tel: 613-759-1000) is a 500-hectare working research farm operated by Agriculture Canada in the heart of the city. It boasts 2000 varieties of trees and shrubs in the Arboretum and plenty of farm animals. In the spring, the farm showcases the works of local landscape architects.
The Gatineau Park Visitors Centre (across the provincial border in Quebec, at 318 Meech lake Road, Chelsea; tel: 819-827-2020) offers information, hiking maps and details on canoe, pontoon and cycle rentals with-in the 26,000-hectare park.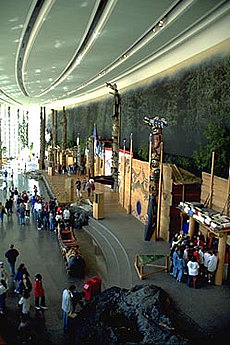 Grand Hall of the Museum of Civilization
Capital Accommodations
Arc The Hotel (140 Slater Street; tel: 613-238-2888, fax: 613-235-8421) is Ottawa's first contemporary designer boutique hotel. It has 112 stunningly appointed rooms and all the bells and whistles savvy travellers desire.
The Carmichael Inn & Spa (46 Cartier Street; tel: 613-236-4667, fax: 613-563-7529) is a designated Heritage House with a mix of 10 studio rooms and whirlpool/fireplace suites. There's also a full-service spa.
Cartier Place & Towers Suite Hotels (180 Cooper Street; tel: 800-236-8399, fax: 613-238-3842) are two side-by-side properties that offer tidy business suites, an indoor pool, a full gym and a kid's playground.
The Chateau Laurier - now called the Fairmont Chateau Laurier (1 Rideau Street; tel: 800-441-1414) epitomizes the regal grandeur of Ottawa. Sit in the lobby for a while and watch the political world go by, or duck into Zoe's lounge for the best cocktails in the capital city. Some rooms have a bird's eye view of the action on Parliament Hill.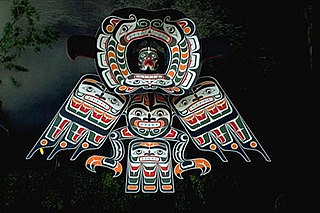 Native Canadian Art at the Museum of Civilization
Chateau Cartier Resort (1170 Aylmer Road, Aylmer, PQ; tel:1-800-807-1088 / 819-777-2518), just across the bridge Ottawa, was rated "Canada's #1 Downtown Golf Resort for 1999" by Golf Canada Magazine. It features tennis, squash, racquetball and volleyball courts, a full-service indoor spa, indoor and outdoor pools, plus a children's playground.
Choice Hotels (1-800-4CHOICE ; website: www.choicehotels.ca) includes three affordable, reliable hotels in heart of Ottawa: Comfort Inn, Quality Hotel and Econo Lodge.
The Citadel Ottawa (101 Lyon Street; tel: 800-567-3600, 613-237-3600) is a renovated business hotel featuring good health club facilities.
The Delta Ottawa Hotel & Suites (361 Queen Street; tel: 800-268-1133, 613-238-6000) is a luxuriously appointed hotel near Parliament Hill. Kids will like this place: It boasts an indoor pool with a two-storey waterslide.
The Doral Inn Ottawa (486 Albert Street; 800-263-6725, 613-230-8055), built in 1879, is also a designated Heritage House, offering three-star comfort in 40 guestrooms.
The Lord Elgin Hotel is a stately hotel overlooking the Confederation Park and the Rideau Canal.
Paterson House Bed & Breakfast (500 Wilbrod Street; tel: 613-565-8996, fax: 613-565-6546) this elegant Heritage House, built in 1901, features four guest suites and a health centre.
The Westin Ottawa (11 Colonel By Drive; tel: 613-560-7000 or 1-800-WESTIN-1) is an exceptional business and leisure hotel with an enviable location. Floor-to-ceiling windows in all 487 guestrooms overlook the city and scenic Rideau Canal.
Overlooking the Ottawa valley and the
Canadian Shield from the crest of Gatineau Park
Where to eat in the Capital Region
Ottawa's reputation for good dining blossomed with the rapid influx of the high-tech sector that mingled creative types with a penchant for sophisticated cuisine with politicos known for bland palates. These are some of my favorite places to dine.
Bistro 115 (110 Murray Street; tel: 613-562-7244), located in the Byward Market, offers an espresso and wine bar, hearty country fare and mouth-watering desserts.
Café Henry Burger (69 Laurier Street, Hull; 613-777-5646) is an elegant restaurant that serves seasonal French cuisine and an extensive wine list.
Le Café at the National Arts Centre (33 Elgin Street; tel: 613-514-5127) overlooking the Rideau Canal provides patrons with what is arguably the city's best combination of view, food and Ontario VAQ wines. Everything on the menu at Le Café, which specializes in Canadian cuisine, is worth a try.
Le Jardin (127 York Street; tel: 613-241-1828) combines an inviting French ambience with delicious cuisine in a Byward Market house boasting stained-glass windows.
Mamma Grazzi's Kitchen (25 George Street; tel: 613-241-8556) has a flair for reasonably priced pizza and pasta in a casual setting.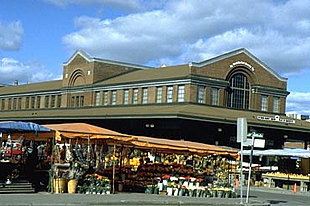 Byward Market
Rideau One (1 Rideau Street; tel: 613-562-7043), the intimate, bistro-like restaurant in the Chateau Laura Hotel, caters impeccably to the sophisticated palates of the world's dignitaries. The imaginative menu offers a delicious range of artfully presented, internationally inspired cuisine.
L'Oree du Bois (Chemin Kingsmere, Old Chelsea, QC; tel: 613-827-0332) serves fine French cuisine in a historic house set high in the Gatineau hills outside Ottawa.
For more information:
Phone: 1-800-66tulip or the Tulip Hotline: 613-567-4447
Tulip Website: www.tulipfestival.ca
For maps and details on Ottawa attractions call: 1-800-363-4465
Ottawa Tourism: 1-800-465-1867
Ottawa Website: www.tourottawa.org